Skip to main content
Your Future
Starts with
The Bell.
Flexible schedules, growth opportunities, supportive teams — there's nowhere to go but up when you join the Taco Bell® community.
Find Jobs Near Me
Serving Up Great
Opportunities
A Taco Bell career means learning, growing, and having some fun. You'll work with close-knit teams, solve problems, and engage with customers. Want to step up to the plate and lead? We'll help with that. Flexible schedules, a welcoming culture where you can be yourself and building skills you'll take with you, no matter where you go in life - you name it, it's here for you.
Apply Today
Get The
Inside Scoop.
From our easy hiring process to our energetic culture, learn why our teams love working at Taco Bell.
"
The Hiring Process Was
Painless...
and I felt appreciated for my potential. Everything was explained clearly and simply, and I was allowed to learn.
"
I've been here
for five years...
I worked my way up to ARM. Taco Bell has helped me receive my GED free of charge, my ServSafe Proctor Certificate, and my title.
"
Local Customers
Remember
Your Name...
and look forward to seeing you. This makes working at Taco Bell fascinating.
"
I Have Only
Been Here For
A Few Months...
but I feel I have known my team for years. If I ever had a hard day, I knew I could count on my coworkers to help me feel better.
Everyone
Belongs At
Taco Bell.
We're making room for all people and voices at our tables. We're elevating our culture by making Equity, Inclusion, and Belonging foundational to how we lead and do business.
The Corporate Guiding Coalition is made up of Taco Bell corporate leaders empowered to provide insight and recommendations on how to advance the Equity, Inclusion & Belonging strategy across the organization and the brand.

We've partnered with the John R. Lewis Racial Justice Case Competition to find and implement ways we can elevate Equity, Inclusion, and Belonging in the Taco Bell franchise system.

Taco Bell Business School, a six-week program, was launched to teach people from all backgrounds the basics of becoming franchise owners to further their entrepreneurial goals.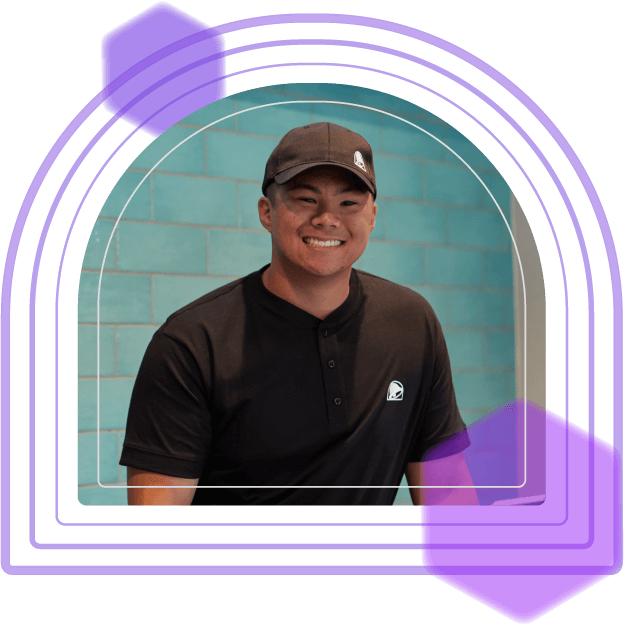 COMMUNITY,
GROWTH, AND
MUCH MORE.
A career with us means enjoying a rotating menu of exciting opportunities. Each day brings something different. We'll help you build skills, grow relationships, continue your education and provide support to impact your career and life. Fun atmosphere, friendly teams, great perks – now that's a delicious combo.
Learn More
Recognition
Is Our Key
Ingredient.
We like to put the spotlight on outstanding company and franchise restaurant leadership through The Golden Bell. We reward the best of the best General Managers and Area Coaches with a trip to Hawaii!